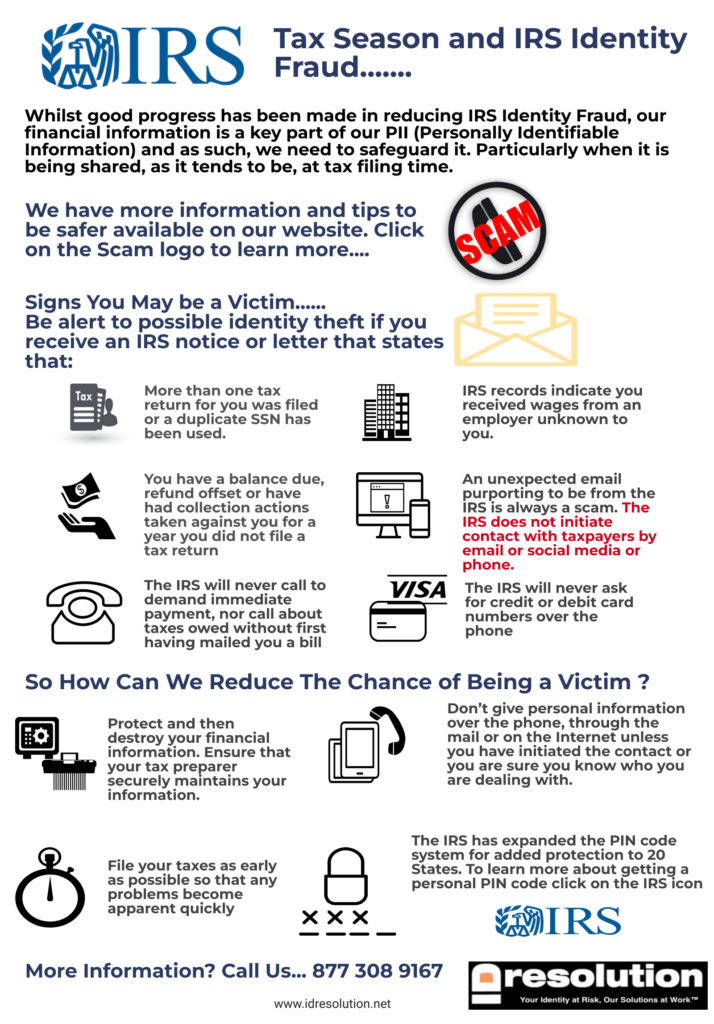 Tax refund fraud has exploded in recent years. Scammers typically use stolen names and Social Security numbers to file phony electronic tax forms for IRS refunds.
To try and combat Identity Theft, later in 2022 the IRS will be changing the way you can access your online account with them to include facial recognition and other security changes via the company ID.me
Tens of thousands of unsolved Identity theft cases are stuck at the IRS. It can take from six months to the better part of a year to get a case cleared up for an individual taxpayer.
File your taxes as early as possible! The earlier you file, the earlier you will be aware of any problems related to possible fraud.
Here are five things the scammers often do but the IRS will not do. Any one of these five things is a tell-tale sign of a scam. The IRS will never:
Call to demand immediate payment, nor will we call about taxes owed without first having mailed you a bill.
Demand that you pay taxes without giving you the opportunity to question or appeal the amount they say you owe.
Require you to use a specific payment method for your taxes, such as a prepaid debit card.
Ask for credit or debit card numbers over the phone.
Threaten to bring in local police or other law-enforcement groups to have you arrested for not paying.
How can you minimize the chance of becoming a victim?
Don't carry your Social Security card or any document(s) with your SSN on it.
Don't give a business your SSN just because they ask. Give it only when required.
Protect your financial information.
Check your credit report at least every 12 months.
Secure personal information in your home.
Protect your personal computers by using firewalls, anti-spam/virus software, update security patches, and change passwords for Internet accounts.
Don't give personal information over the phone, through the mail or on the Internet unless you have initiated the contact or you are sure you know who you are dealing with.
To download our PDF click on the button.
Need more info? Have a question? If Give us a call !
877 308 9169